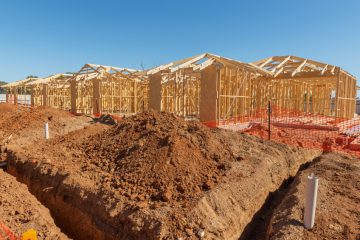 The amount of new homes being registered to be built around the UK is rising, outperforming levels recorded in 2014, according to the National House Building Council (NHBC) data for July.
After a strong second quarter (Q2) of this year, the new figures reveal a rise of 14% for the rolling quarter May-July, compared to the same period last year.
The NHBC announced that 43,684 new homes were registered, with 32,521 in the private sector and 11,163 in the public sector.
Last year, 38,365 new homes were registered in the same three-month period, of which 28,804 were in the private sector and 9,561 were in the public sector.
However, new home registrations have dropped in two regions, Yorkshire and the Humber and the South East.
Total new homes registered in May-July
| | | |
| --- | --- | --- |
| Region | May-July 2015 | May-July 2014 |
| North East | 1,638 | 1,375 |
| North West | 4,062 | 2,983 |
| Yorkshire and the Humber | 1,821 | 2,470 |
| West Midlands | 3,632 | 3,266 |
| East Midlands | 3,602 | 4,059 |
| East of England | 4,752 | 3,555 |
| South West | 4,146 | 3,975 |
| Greater London | 9,118 | 6,326 |
| South East | 5,204 | 6,154 |
| Total for England | 37,975 | 34,163 |
| Scotland – Councils | 3,543 | 2,492 |
| Wales – Unitary authorities | 1,327 | 1,143 |
| Northern Ireland – Counties | 839 | 567 |
| Total for UK | 43,684 | 38,365 |