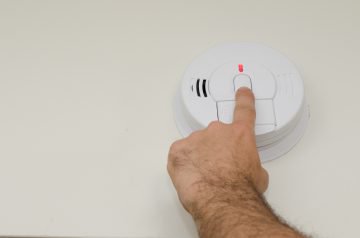 Landlords and letting agents are warned that they may not be complying with new legislation if they simply press the test button on carbon monoxide alarms.
The law, which came into effect on 1st October, requires landlords or their agents to test smoke and carbon monoxide alarms at the start of each new tenancy.
However, an expert has advised that the test button on carbon monoxide alarms is not sufficient in ensuring that the alarm works; the test button tests the circuit, but does not check whether the sensor is functioning.
However, the new regulations require landlords to ensure that their rental properties have working carbon monoxide alarms.
Agents conducting these checks for landlords, including those that delegate the duty to maintenance staff or inventory clerks, could leave landlords exposed to prosecution if they do not specifically check that the alarms work.
Managing Director of Gas Safe Europe, John Stones, states: "Simply pressing the so-called test button only tests the battery, buzzer and circuit, yet the sensor is the component most likely to fail."1 
He says that testing can only be done properly by injecting test gas, such as Detectagas, over the alarm.
Landlords and agents should also be aware that carbon monoxide alarm sensors have very short life spans.
From 1st October, private landlords have been legally required to install smoke alarms on each floor of their rental properties and carbon monoxide alarms in rooms where there are solid fuel burning appliances. This applies to new and existing tenancies.
The new law only applies in England.
However, some believe that the new laws do not go far enough. Some argue that carbon monoxide alarms should be required where there are gas boilers.
In Northern Ireland, the legal requirement is to have carbon monoxide alarms fitted in all new homes, whether rental or owner-occupier, and whenever a boiler or solid fuel stove is upgraded.
Recently, a mother spoke on Radio 4's You and Yours show, urging the law to cover all homes, both old and new and rented or owner-occupied.
Stacey Rodgers lost her only child, ten-year-old Dominic, to carbon monoxide poisoning in February 2004.
He died after a neighbour's faulty boiler leaked the gas through the brickwork into his bedroom.
Stacey has since become a campaigner to raise awareness of the dangers.
On the programme, she asked: "Your own property might be okay, but what about the home next door?"1
Scotland is due to have its own legislation created in December and in Wales, alarms are recommended, but not compulsory.
Unfortunately, it often takes a tragedy before there is action.
The show also considered whether landlords would turn a blind eye to the alarm regulations.
Landlords should stay up to date with all new laws and responsibilities.
1 http://www.propertyindustryeye.com/carbon-monoxide-legal-duties-agents-warned-that-pressing-test-is-not-enough/