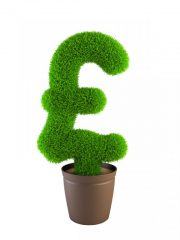 Private rent prices increased by an average of 2.7% across the UK during the year to September, according to the latest data from the Office for National Statistics (ONS).
The growth was fuelled by London, where the average rent rose by 4.1% annually.
The figures also show that rents increased by 2.8% in England, 1.6% in Scotland and 0.5% in Wales.
Excluding the capital, rents grew by 1.8% over the 12 months to September.
The ONS index reports that rent prices are now rising at the fastest rate for three years.
However, in some regions of the UK, rent price growth was minimal, at 0.5% in the North East and 0.7% in the North West.
Managing Director of London estate agent Stirling Ackroyd, Andrew Bridges, comments: "Britain's rental market is being powered by London, as the capital's allure continues to draw graduates and professionals from around the country.
"Supply remains an unaddressed issue – more apartments are needed rapidly to combat spiralling demand. And as renting becomes the norm for all ages, the result of this mismatch is felt clearly in average rents as much as property prices.
"When people say the UK needs more homes, the true meaning is usually that London needs more homes."1
In separate research, the Association of Residential Letting Agents (ARLA) says that housing supply in the capital continues to be an issue, but that tenants in the West Midlands are being hit the hardest by rent rises.
It reports that three in five ARLA letting agents in the region experienced rent increases in September. This is despite allegedly healthy supply levels, with the average office managing 272 properties.
In London, the average ARLA member branch manages just 124 properties.
The ARLA study was conducted online by Opinium Research among 317 letting agencies.
1 http://www.propertyindustryeye.com/rent-rises-grow-across-uk-at-under-inflation-rate/