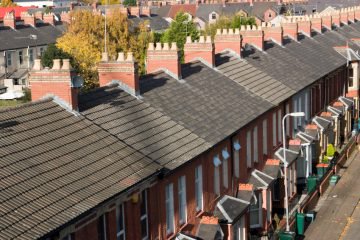 Rosa Ellis is a social housing tenant, but she's not at all interested in buying her housing association home.
The Conservatives recently announced an extension to the right to buy scheme (Read more here), which would allow these tenants to purchase their homes.
Rosa explains that she does not support the policy and why.
"In 2011 I met someone and fell in love," she says. "Because I was a member of a housing association, my partner and I were able to move in together, into our own small but perfectly formed one-bed flat."
She says that unlike other couples, who were living with their parents or in tiny house shares, her and her partner had a "space of our own."
Rosa was working for a small charity at the time and could not afford to privately rent a one-bedroom flat. However, after a year in her housing association home, Rosa faced redundancy. Two weeks later, the couple discovered that so did her partner.
Rosa says that they could "deal with the financial insecurity because our rent isn't sky high. We knew we weren't facing the prospect of leaving our home."
Rosa admits that she is lucky to not have a landlord who can "dramatically alter a tenant's life."
She explains her appreciation: "Because I feel very fortunate to live in a housing association, I help out with the running of it. Each month I meet ten others for a committee meeting in which we work out how to provide adequate housing for as many people as possible.
"I don't know about other housing associations, but many of the people I've met through mine are the types who care about contributing to their community. They are teachers and carers, local government workers and gardeners, artists and charity workers. They have never been able to afford to buy a house in London and they probably never will."
She says that housing associations allow local residents on low incomes to continue living in their area and contribute to the community. "It's not only the tenants who benefit," she comments.
She notes that housing associations help young people get onto the property ladder.
She explains the significance of this housing: "Many people before me have had a stable life renting the flat that I live in, but if I buy it that's the end of the line and no one else will benefit."
Rosa is set to marry her partner in September, and would like to see any children they have living in a secure home where they grew up.
Rosa concludes: "For the future generations, housing associations should be cherished and grown, and more should be established. They certainly shouldn't be subjected to policies that will see them whither and die
"That's why, if I can ever afford to buy, my home definitely won't be ex-housing association."1
1 http://www.theguardian.com/housing-network/2015/apr/20/right-to-buy-housing-association-home