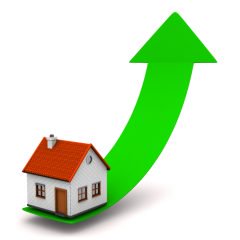 The housing market received a boost in April, driving prices up towards the record high set in 2007.
The average property price in England and Wales rose by 0.9% in April to reach £179,817, revealed Land Registry.
This is just £1,197 below the record £181,014 seen in November 2007, before the housing market recovery.
The annual rate of price growth eased for the eighth consecutive month, falling to 5.1%, down from 5.3% in March.
April's increase counterbalances the decrease in March, indicating that house prices could accelerate in the coming months.
Property Economist at Capital Economics, Matthew Pointon, comments: "With the stock of homes for sale at an historic low, the conditions are in place for further price gains this year. That suggests the low point for the annual rate of house price inflation is now in sight.
"The combination of an improving labour market and record low mortgage interest rates will support a steady rise in demand."1 
London continued to experience the strongest yearly rate of growth, with an increase of 10.9% in the year to the end of April; the only region with a double-digit rise.
However, the gap between the capital and other regions is starting to close, with the South East and East of England seeing increases of 8.8% and 7.8% correspondingly.
The North East was the only area to record an annual drop in prices, with the average down 0.6%. Wales' property prices rose by just 0.3%.
During April alone, northern regions performed better, indicating that the high price growth of 2014 is beginning to move out of London into other parts of the country.
The average house price rose by 2.7% in Yorkshire and the Humber during April, and prices in the North West increased by 2.1%.
The East Midlands and South East also recorded higher than average growth of 1.4%.
However, the North East and Wales were still struggling, with prices dropping by 0.5% and 1.1% respectively.
Property sales also dropped between November 2014 and February 2015 (the latest period for which figures are available). Read more: /huge-decrease-in-house-sales/.
This slowdown was particularly noticeable at the top end of the market, with the amount of homes sold for over £1m falling by 18% annually in February, to 722 properties.
1 http://www.zoopla.co.uk/discover/property-news/house-prices-within-touching-distance-of-181-000-high/#oVa1jX8f8DURLuWO.97