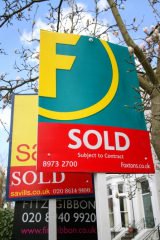 An encouraging report has indicated that a rising number of homeowners believe that they could be tempted to put their property on the market in the coming year.
The report from the Halifax suggests the percentage of people who believe the next 12 months will be profitable for sellers is at it's highest rate for four years.
Rise
Property prices have continued to rise during the first months of 2015, but at a slower rate than last year. This can be attributed to the fact that at present less homes are available on the market.
According to the Halifax confidence tracker however. 59% of respondents believe that the present is a good time to sell a property, with just 26% believing that this is not the case. This net balance of 33% is the highest since the confidence tracker began in April of 2011.[1]
In excess of two-thirds of homeowners expect house prices to rise further during the rest of this year, with just 3% expecting them to fall.
Strong start
Craig McKinlay, mortgages director at Halifax, believes that, 'we've seen a strong start to the year in terms of the net sentiment regarding the outlook for the housing market and this has translated into an increase in transaction volumes.' Continuing, he said that the increase in confidence was, 'likely to be the result of a combination of factors, including the improving economic figures, greater numbers of higher loan to value mortgages and extremely competitive mortgage rates.'[2]
The most optimism over house price expectations is to be found in the South East, which is seeing the effect of purchasers looking for value on commuter belts located outside of the capital.
53% of people questioned in the survey said that they feel that now is a good time to buy a property, as opposed to 32% who were of the opposite opinion. Predictably, the stumbling blocks that people said were blocking their way into homeownership were inability to raise a deposit (61%) and concerns about their job security (44%)[3]
Almost 2,000 people were surveyed in the Halifax report.
[1-3] http://www.dailymail.co.uk/money/mortgageshome/article-3052488/Share-homeowners-believe-12-months-time-sell-reaches-four-year-high-confidence-price-rises-grows.html