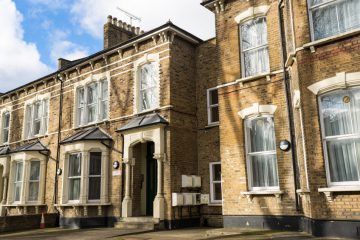 Houses in Multiple Occupation (HMOs) continue to outperform standard buy-to-lets on both yield and return on equity, according to a new report by Multi-Let UK.
The HMO investment and management specialist found that the average gross return, before void periods and maintenance, on capital for HMOs let to professionals over the past five years has risen by an average of 18-20%, compared to an average gross return of 6-8% on a standard buy-to-let (BTL).
Using these averages, Multi-Let UK found that every £1,000 invested in HMOs in 2011 has grown to £1,900 in 2016, compared with £1,300 for a standard BTL, based on cashflow excluding equity. Although the average initial capital investment on an HMO is higher than a standard BTL, the majority of HMO investors have received a considerably higher return over the last five years – an average of £600 on every £1,000, applying a gross return to both.
As Daniel Hill, the MD of Multi-Let UK explains, HMOs in the right location and market are by far the best performing investment for monthly cashflow returns compared to other traditional BTL properties.
He says: "HMOs are highly attractive to investors, especially in UK cities with a high proportion of students and young professionals. However, in today's market, a high-yielding HMO, this can be down to the detail of the correct street.
"Whilst the market conditions in many areas are becoming more developed and competitive, a HMO property with the correct scheme and management can deliver landlords and investors an average gross yield of 10-13%, leveraged return on investment of 18%-plus, before voids and maintenance. These yields are much higher than standard single let rental properties, which are achieving average yields of between 4-8%, subject to location."
He explains in more detail: "A three-bedroomed, single let property in the Midlands may typically achieve a gross rent of £650 per calendar month (pcm) for a family. It is usual that, once converted, the gross rent on the same property will exceed £2,000 pcm as an HMO. This represents a significant profit opportunity for buy-to-let investors who have the required expertise to generate sustainable returns in this increasingly competitive market.
"HMO properties can generate this significant increase in revenue because they are rented out to individuals, on a room-by-room basis. HMOs often provide between four and ten rooms, rented to individual tenants. Rent will typically include the internet, general utility bills and Council Tax. Whilst the individual bedrooms are rented as private for exclusive use, most HMOs have communal areas, including kitchen diners and lounges."
He adds: "Many standard properties can be successfully converted to HMOs with the introduction of C4 building regulations. If a high quality refurbishment is undertaken, the property can attract working professionals in the right location, who are prepared to pay more for a shared property with a superior finish. Luxury ensuites, large TVs, premium kitchen appliances and furnishings are the type of features that help to generate a high yielding HMO, where the market conditions accommodate."
So, how do you create a high yielding HMO portfolio?
Buy the right property – Look for at least five bedrooms (ideally six plus), as profits grow significantly with this number of rooms.
Find the right location – It is vital that you choose the correct location, not just the town or city, but even down to finding the best road.
Target the right tenants – Look for an area with a high density of young professionals and students in town/city centres with good transport links.
Don't over/underspend – Always keep to a budget when refurbishing and make sure your accommodation is scoped to a specific market and tenant demands.
Know the market – Ensure that your property suits the market. Always do thorough research and use local experts if needs be.
Stick to the law – Make sure you understand the various regulations and legislative requirements, and that you comply with them.
Use reputable tradespeople – If you are refurbishing, the job will go much more smoothly if you use professionals. Once the refurbishment is complete, you don't want to be spending time and money on maintenance.
Minimise maintenance costs – Always choose high durability fixtures and fittings, opt for long warrantees if possible and select furniture with the best suitability to your property and tenants.
What about managing an HMO portfolio?
Select the right tenants – Always conduct thorough reference checks on prospective tenants, and secure guarantors and deposits.
Don't mix tenant groups – Keep your HMO for either students, young professionals, housing benefit tenants, etc.
Don't compromise on facilities – Always provide high quality accommodation, including at least five bedrooms and living and dining areas.
Keep on top of maintenance – HMOs can require more upkeep than standard BTLs, and there are generally more call-outs due to the volume of tenants, but always respond quickly and efficiently.
Offer good customer service – Provide tenants with a high quality, 24/7 service. This will make them stay longer and recommend you to friends and family.
Retain ownership of bills – It can be wise to own and control utilities and recover the costs through monthly rent. Also, consider using a cleaner for the main living areas, absorbing the cost into the rent price.
Cut operating costs – Find the cheapest utilities on the market, from electrics to gas to broadband.
Keep on top of the law – Landlord News provides you with the latest legal updates.
Comply with management regulations – These are special building control and health and safety regulations, which apply to all HMOs. If a landlord does not comply with these regulations, they can be prosecuted by the local authority and fined by the magistrates' court. If you are unsure about what the regulations cover, check them online and speak to the required authorised body.
Be proactive – By conducting monthly inspections, you can record your legal requirements and identify any maintenance work that needs to be carried out.
License your property – Mandatory licensing is required if a property houses five or more unrelated occupiers on three or more floors. However, a property of only three or more households still requires C4 building regulation. Many local authorities have applied for additional licensing, which means all HMOs in these areas must be licensed. Consult your local authority if you are unsure.
Adhere to gas, electric and fire safety regulations – Conduct all of the mandatory checks, keep certification of work and ensure that your property meets all safety regulations.
Work with experts – Managing an HMO portfolio is a specialist and full-time job. If you own a large portfolio, it could be a good idea to work with an expert firm, such as Multi-Let UK, to ensure your property is managed effectively.