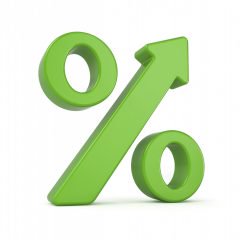 Increasing property prices, stricter mortgage lending criteria and Stamp Duty reforms have caused a rise in the typical deposit to buy a home. The average deposit is now £71,078, the highest since October 2013, revealed mortgage brokers.
Buyers put down 30.7% of the purchase price in December, a rise from £68,829 in November, reported the latest index from the Mortgage Advice Bureau.1
Deposits for houses increased for most of 2014. In March, the average was 28% of the purchase price. This started to rise after harsher mortgage lending rules, called the Mortgage Market Review, were introduced in April.1
The new criteria requires mortgage providers to make more thorough checks on borrowers' finances, including making sure they could keep up repayments if interest rates rose to 7%. This has made it more difficult for homebuyers, especially first time buyers, who have smaller deposits.
Furthermore, rising property prices have also pushed deposit requirements higher. However, the December findings also imply that Chancellor George Osborne's Stamp Duty changes have helped buyers with additional funds for their deposits.
Anyone buying a property for less than £937,000 has gained from the reforms, and has therefore been left with more money to put down. Yet it was buyers with house prices just over £250,000 who have made the greatest gains.
Buying at the December average of £231,487 would mean a Stamp Duty reduction of £185.13 under the new system. However, those buying a house worth £250,001 will save around £5,000 in the tax.
Deposit levels
Before the deposit rises last year, levels had been dropping. In October 2013, the Help to Buy scheme helped first time buyers get a mortgage with just a 5% deposit.
The average deposit for purchase mortgage applications around the market consequently fell, as more mortgage lenders joined the scheme and others introduced competitively high loan-to-value (LTV) deals.
Head of Lending at the Mortgage Advice Bureau, Brian Murphy, says: "December's Stamp Duty announcement was an early Christmas present for many aspiring buyers. Having extra funds to put towards a deposit cannot only help to limit borrowing commitments and give people more bargaining power, it can also allow access to better mortgage deals at lower LTVs, either at the point of purchase or when it comes to remortgaging at a later date."1
Across the country
In comparing the average cost of home purchase applications around the UK, those benefitting the most from the Stamp Duty reforms are in the South East. The typical buyer here will save £3,870.50, which is 4% of their deposit.
The average London buyer will save £4,593.10, however with higher house prices, this saving is less, at just 2% of their deposit.
The average Stamp Duty saving across the country in December was £1,376.11, or £1,054.41 excluding London. In all but two regions, the West Midlands and Wales, the standard buyer saved over £500 under the changes.
The Stamp Duty reforms kept mortgage applications steady in December, despite the normal seasonal slowdown. Total applications dropped by 28% from November, but were still higher by more than a quarter annually.
1 http://www.thisismoney.co.uk/money/mortgageshome/article-2918348/House-deposits-rise-71-000-tougher-lending-rules-stamp-duty-reforms-push-sums-laid-buyers-higher.html