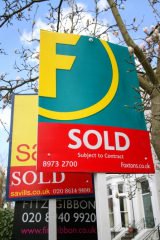 One in five high-street estate agents in the UK are at risk of going bust following a surge in online alternatives, a new study has found.
Almost 5,000 high-street estate agents are showing signs of "financial distress", reports accountancy firm Moore Stephens.
Traditional firms are likely to have higher property and staff costs, and are struggling to compete with low-cost, fixed fee online estate agents, the report claims.
The research also indicates that the growth in property websites has undermined the role of estate agents.
Moore Stephens' Mike Finch says: "Traditional high-street estate agents' profit margins are being squeezed from both sides, from cut-price online competitors to their larger counterparts on the high-street, who are forcing them to up their spending or give up the race.
"Many areas across the UK are over-saturated with estate agents, and competition is becoming too much for some smaller businesses."
The study follows a slump in profits announced last week by two of the UK's largest high-street estate agents.
Countrywide – the UK's biggest listed estate agent – said that pre-tax profits for the six months to June were £447,000 – down from £24.3m in the same period last year.
Revenue and profits at Foxtons also dropped in the first half of the year, as the London-focused agent pointed to "unprecedented" economic and political uncertainty hitting the property market.
The group said that revenue fell by 15% to £58.5m in the six months to 30th June, with pre-tax profits plummeting by 64%, from £10.5m to £3.8m.
A separate study has found that planning applications for new shops have dropped to an eight-year low, amid continued growth of e-commerce.
There were 6,525 applications in England in the year to March – almost half the number in 2008-09, and down by 11% on 2014-15, according to Lendy, which provides property finance and development loans.
Greater Manchester recorded the greatest decline in retail planning applications last year, it reports.
Liam Brooke, of the firm, adds: "The continued softness in the retail property market shows no sign of abating. Retailers are shunning and shutting bricks and mortar shops.
"The Government needs to find a way to encourage retailers to give the high streets a face lift. Big brands are continuing to shift their focus towards their online services."
Landlords, have you considered using an online estate/letting agent?