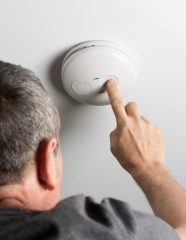 Private landlords have many responsibilities in their role of providing safe and secure homes to tenants. Arguably one of the most important obligations in terms of keeping your tenants safe and protecting your property is fire safety.
FireProtectionOnline.co.uk has put together some advice for landlords on complying with fire safety rules, to ensure you look after your tenants and comply with the law.
Smoke and carbon monoxide alarms
Smoke alarms are vital in keeping everyone in a home safe, as early warnings of fire will help residents evacuate safely and call for help. The law now requires landlords to install at least one smoke alarm on each floor of their rental property for tenancies starting on or after 1st October 2015.
In addition, landlords are legally obliged to fit carbon monoxide alarms in any rooms with a solid fuel burning appliance.
FireProtectionOnline also advises having your chimneys swept annually, which helps keep your appliances safe and ensures the chimney isn't blocked, although this is not a legal requirement.
Furthermore, the firm suggests installing carbon monoxide alarms if you have gas appliances in your property, even though it is not compulsory, as faulty gas appliances can also be a source of the harmful gas.
At the start of each new tenancy, you are required to test all alarms and make sure that tenants are aware of their responsibilities.
If you have battery alarms, inform your tenants that they must change the batteries every six months and test them weekly. Because you cannot rely on them doing so, it could be a good idea to purchase long-life battery alarms that have a ten-year guarantee. All you need to do then is change the smoke alarm every ten years, which should be done anyway.
You could also have the alarms wired into the mains electricity, which also contains a life-long battery. This means that the alarm will still work, even if there is a power cut.
Also, consider putting interconnected smoke alarms in. All new build homes require this system, and you can connect them via cables or wirelessly. With these alarms, your tenants would be warned of a possible threat, regardless of where they are in the property.
It is also important to remember that you must fit the right type of sensors. Installing a heat sensor in the kitchen means that your tenants would have fewer false alarms when they are cooking. Optical smoke alarms are also less sensitive to cooking fumes. A fire risk assessment will help you decide which sensors to fit.
If you do not comply with smoke and carbon monoxide alarms laws, you could face a £5,000 fine. It is vital that you stick to your duties, as private tenants are seven times more likely to experience a house fire than homeowners – fit fire alarms immediately if you haven't already!
Gas safety
Gas leaks can cause a host of serious hazards. As a responsible landlord, you should have carbon monoxide alarms installed in your rental property. Not only is the harmful gas produced by burning solid fuel, it is also caused by gas appliances.
On average, carbon monoxide poisoning causes over 200 hospital admissions every year and around 40 deaths. As the gas has no colour, smell or taste, it can go by unnoticed – unless you have an alarm. Common symptoms of carbon monoxide poisoning include headaches, nausea, dizziness, breathlessness and loss of consciousness. Not only is the gas harmful to health, it is also highly flammable and could cause a terrible explosion.
The law is very strict regarding gas safety in rental properties. Failing to comply with these rules makes you liable for hefty fines and even imprisonment. This guide will help you stick by your gas safety obligations: /landlords-guide-gas-safety/
Electrical safety 
All landlords must make sure that their rental properties are safe. This means certifying a number of things about the property to ensure you comply with your legal responsibilities.
At the beginning of each tenancy, you must check that the electrics, including the circuits, switches, sockets and light fittings, are safe and are kept in a safe condition throughout the tenancy. Conducting periodic inspections will allow you to check that there are no signs of damage, such as cracks, burn marks or frayed leads.
The best way to be completely sure is to have any work carried out by a qualified electrician. All Houses in Multiple Occupation (HMOs) must have their electrics inspected by a professional every five years. Ordinary rental properties are not required to do so, but it could still be a good idea, to ensure your tenants are safe and your property is in a good condition.
You must also make sure that any electrical appliances you provide are safe. Only use appliances with a CE marketing, which confirms that it has met EU safety requirements. FireProtectionOnline also suggests having your appliances PAT tested every year by a registered electrician. Although this is not a legal requirement, you are bound by law to ensure that your electrical equipment is safe.
Additionally, you should check that your fuse box has RCD protection, which means that its design will protect against electric shocks and reduce the risk of an electrical fire breaking out.
Furniture 
If you let your property furnished, you must be careful when choosing furniture. All upholstered furnishings must be made from a fire resistant material, and you should not remove the label that confirms this. However, the Furniture and Furnishings Act 1988 does not include carpets or curtains.
FireProtectionOnline also advises providing your tenants with fire safety advice in their welcome pack. Remind them to be careful when lighting candles and leaving lit appliances unattended. You may also want to ban smoking in your property, to reduce the risk of furnishings catching alight.
Fire-fighting equipment
Typically, fire-fighting equipment is not required in rental properties. However, HMOs must have fire extinguishers on each floor of the building in communal areas. It is also a good idea to provide a fire blanket and a multipurpose extinguisher for your tenants. These will help them stop a small fire from getting out of control, and could help them make a safe exit if a fire spreads.
If you do provide an extinguisher in your rental property, you must ensure that your tenants know how to operate it. Although you might not be able to offer them training, you can provide basic advice.
You must also think about which type of extinguisher to offer. A powder extinguisher is best for different uses, but can cause significant damage to the property. Weigh up the pros and cons to decide whether a foam or water extinguisher might be better suited. But remember – a trained technician must service any extinguisher you provide every year.
Fire risk assessments
Completing a fire risk assessment helps you identify any potential risks in your rental property. Under the Regulatory Reform (Fire Safety) Order 2005, you must conduct a fire risk assessment for your HMO. Although you can conduct this yourself, FireProtectionOnline advises landlords to have a professional complete the assessment on your behalf. However, you will still be held accountable for complying with the law.
Fire risk assessments identify fire hazards, reduce the risk to those living in the property, and highlight precautions to ensure the safety of tenants. You can use this report to make your property as safe as possible.
Although it is not a legal requirement, you should also have a fire risk assessment conducted for any type of property you rent out. The report identifies emergency evacuation plans and any fire doors that are needed, helping you keep your tenants safe.
Landlords, remember that it is in your best interest to comply with fire safety laws and recommendations, as your tenants' safety and property's condition could be at risk.