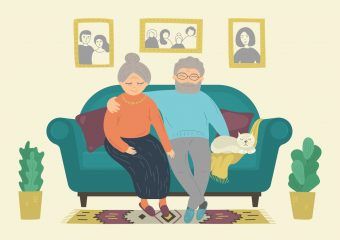 Location is by far the most important factor when choosing a property to live in, according to Knight Frank's survey of homeowners and renters over the age of 65.
56% of these respondents highlighted this as a priority.
When it comes to choosing a location, 28% responded that their decision was guided by whether the rent or purchase price of the area was within their budget. This was followed by living close to family and friends (17%), proximity to transport links (13%) and access to green space (10%).
The survey also found that 37% of those aged over 65 find the prospect of living in a senior living community attractive.
Commenting on the survey, Jamie Turnbull, Business Director at Girlings Retirement Rentals says, "This survey reveals what's important for older people when considering a move in later life and shows that location, affordability and being close to family and friends are the most important factors.
"Interestingly the survey also shows that people are open to the idea of living in a retirement community. This mirrors our experience and we are finding more older people are choosing to downsize and rent in a specialist retirement development in their 60s and 70s.
"Benefits include freeing up capital in their home and being able to move somewhere they have always wanted to live. It also enables people to move to a more manageable and age-appropriate property, and no longer have the worry about the upkeep and ongoing maintenance of a home."
Knight Frank says that the number of people aged 65+ living in the UK is forecast to increase by 20% (12 million in total) by 2027. The need to provide suitable housing options for these people is more important than ever, it says. In particular, they have highlighted an existing senior's rental market.
The survey found that a fifth of renter respondents aged 65+ said they are renting privately because they downsized due to life events or changes in household composition. 17% also stated that they are renting because they don't have enough for a deposit.
The responsibility of owning a home is the reason 14% decide to rent, and 13% do so because it allows them to live in locations where they couldn't afford to buy.