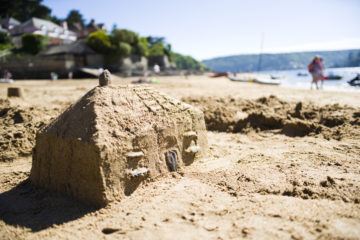 Short term rentals account for as much as 7% of total housing stock in popular destinations, according to data from GetAgent.co.uk.
The latest research by estate agent comparison site GetAgent.co.uk has revealed how holiday-lets now account for as much as 7% of total homes across 15 of the nation's most popular staycation destinations. Only one of these destinations has seen a decline in holiday-let property market prominence.
It analysed the latest data on active holiday rentals across 15 of the nation's most popular tourist destinations:
Scarborough
Dorset
Torbay
Cornwall
Blackpool
Great Yarmouth
Bournemouth, Christchurch and Poole
Folkestone and Hythe
Hastings
East Lindsey
South Hams
North Tyneside
Brighton and Hove
Sefton
Southend on Sea
They then compared this to the total number of dwellings in each area to see what percentage of the market they currently account for.
The research shows that there are currently 54,657 holiday lets, accounting for 3.5% of total homes in these locations. This is up from 2.8% since 2019.
Cornwall is the nation's holiday let capital, with holiday rentals accounting for 7.4% of total homes in the area (up 1.2% since 2019).
Scarborough has the second highest current percentage of holiday let housing stock, accounting for 7% of all homes in the town (up 2.3% since 2019).
Dorset ranks third both where current holiday let market share is concerned (6.1%), as well as the increase since 2019 (up 1.6% since 2019).
Co-founder and CEO of GetAgent.co.uk, Colby Short, comments: "Holiday lets are an understandably contentious subject and one that has really come to the forefront during the pandemic due to sky high demand for staycations while travel restrictions were in play.
"At the same time, many traditional buy-to-let landlords have looked to holiday lets as a way of improving their financial returns, due to the far higher rental yield potential and following a sustained campaign by the Government to deter buy-to-let investment.
"For many local residents, this upward trend will be unwelcome news, as the general consensus is that holiday lets put a further strangle hold on local housing availability, pushing the cost of both renting and buying out of reach.
"Of course, the flipside is that these local economies rely heavily on tourism and a higher provision of holiday rentals helps to boost tourism spend which, in turn, has a positive influence on the wider local area."