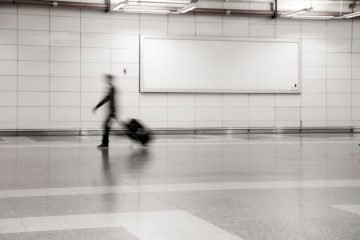 An advertisement on London Tube trains for an online estate agent featuring a savings claim has led to a complaint to the advertising regulator.
The HouseSimple advert states: "Save £15,665 versus average Foxtons fee of 2.4%."1 
The complainant went to the Advertising Standards Authority (ASA) saying that they believed the advert to be misleading because it did not make the basis of the savings claim clear.
It has now emerged that the complaint has been informally resolved.
An ASA spokesperson says: "We approached HouseSimple with the concerns that had been raised.
"It agreed to amend the ad to make clear that the savings claim is based on selling a property at their current average London asking price.
"On that basis, we considered the matter had been resolved and closed the case."1
HouseSimple comments: "The complaint was relating to clarifying on an advert we are running on London Tubes and how we came to the savings figure of £15,665 versus average Foxtons fee of 2.4%."1
HouseSimple reveals that its average London property costs £561,373 and its average vendor fee is £502.80. Foxtons' fee on a home of the same value would be £16,167.51, based on its 2.4% + VAT fee.
HouseSimple used Foxtons' current average asking price of £885,553 to calculate the potential savings that clients could make, a huge £25,001.
The agent also used Rightmove's average listed asking price for a London house, £615,115, to calculate an average saving of £17,213.
Head of HouseSimple, Alex Gosling, adds that the London Evening Standard has banned a similar advert, as it mentioned Foxtons.
He says: "The Evening Standard disallowed a similar advert due to the fact Foxtons is a long standing advertiser with them.
"Whilst this may seem anti-competitive to some, we understood the position the Evening Standard were in and so agreed to suggested amendments without taking further action. Interestingly, when the advert was amended and subsequently published, guess who had an advert on the next-door page to HouseSimple… Foxtons!
"We have existed for over eight years now and the levels of anti-competitive behaviour have always been high in this industry. We have fought through numerous issues such as adverts being disallowed in numerous publications or websites, to being thrown off well-known portals and even more recently banned from portals such as OnTheMarket. It is all symptomatic of an industry fighting change and desperately trying to hang on to its high fees.
"We are proud to have started this industry renaissance and to still be spearheading the revolution."1
Earlier this year, Carphone Warehouse founder, Sir Charles Dunstone and his business partner Roger Taylor, invested £5m into HouseSimple. They plan to invest in the firm further.
Recently, HouseSimple hired creative agency Wordley Production to create its first TV advert.
1 http://www.propertyindustryeye.com/online-agent-agrees-to-amend-money-saving-advert-after-complaint-to-watchdog/