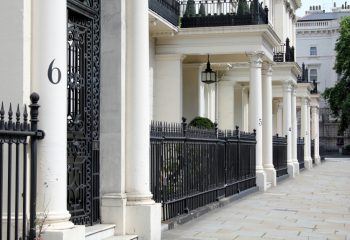 Foreign investment into new build second homes and buy-to-lets in London could be pushing house prices way out of reach for the capital's first time buyers, found the latest research by eMoov.co.uk.
Using recent data from the Land Registry, the online estate agent looked at the gap between the average first time buyer house price in the capital and the average price of a London new build since 2012. The analysis found that, not only has there been a consistently increasing deficit of 11-13% between 2012 and 2016, so far this year, that gap has already escalated to over 18%.
Despite recent hikes in Stamp Duty for second and buy-to-let homes, and Britain's decision to leave the EU, a report by York University on behalf of the London Mayor, Sadiq Khan, has found that foreign investors are snapping up thousands of new build homes, which are suitable for first time buyers.
The boroughs with the highest percentage of foreign buyers were Westminster, Tower Hamlets and Greenwich, with between 9-11% of all London homes sold overseas.
Kensington and Chelsea (8.4%), Southwark (8.4%), Hackney (7.4%), Lewisham (6.2%), Hammersmith & Fulham (4.2%) and Newham (3.7%) also ranked in the top ten.
Over 50% of all London properties sold abroad were also below the £500,000 mark.
In 2012, the average first time buyer in the capital paid £264,682 for their property, however, the price of the average London new build was already over £30,000 more than this threshold, at £297,587 – a difference of 11.06%.
As London's market continued to over-inflate, this gap grew marginally but consistently larger, stretching to 11.89% in 2013, 12.34% in 2014, 12.59% in 2015 and 12.98% in 2016. However, the recent influx of foreign investment may well have widened the gap beyond reach as, so far in 2017, the difference between the affordability of a London first time buyer and the capital's new build homes is now 18.21%.
Largest current deficit 
Newham is by far the worst offender in terms of the gap between the borough's average first time buyer house price and the cost of a new build. Since 2012, the gap has exceeded 22% (22.5%), again growing steadily from 22.76% in 2013, 22.72% in 2014, 22.81% in 2015 and 23.26% in 2016, before accelerating to 27.91% in 2017 alone.
Westminster is home to the second largest gap, currently at 16.87%, having sat between 10.79% and 12.43% since 2012.
Greenwich has the third greatest deficit, at 16.18%, having yo-yoed between 10.77% and 11.82% since 2012.
Southwark (15.37%), Wandsworth (14.72%), Lewisham (13.60%) and Hackney (12.11%) also have a current gap of over 10%. Hammersmith & Fulham (7.39%), Tower Hamlets (7.33%), and Kensington and Chelsea (1.82%) are home to the smallest differences.
Biggest changes
Although currently home to some of the smallest differences in price, prime central London has seen the greatest turnaround in the first time buyer to new build price gap over the past five years.
The high cost of property in Kensington and Chelsea means that the average first time buyer house price in the borough has actually been higher than that of a new build – over 6% higher in 2012. However, this gap has slowly closed and finally reversed in 2017, with new build prices now exceeding first time buyer costs by 1.82% – the biggest turnaround of all boroughs.
In 2012, the average first time buyer house price in Hammersmith & Fulham was also marginally higher than a typical new build (0.33%), but has since been outstripped by a consistent increase in new build house prices – the second largest turnaround in the capital.
Lewisham has also seen one of the greatest changes in the last five years, with a 129% change and fourth largest in the last year, at 66%.
Tower Hamlets ranks third behind the prime central London boroughs, with the gap widening by 134% since 2016 alone.
The Founder and CEO of eMoov, Russell Quirk, says: "Worrying signs for London's first time buyers and signs that aren't just restricted to London's high-end market, with Tower Hamlet's seeing some heavy levels of overseas investment as one of the capital's more affordable boroughs.
"It's clear that new build affordability has been an issue for first time buyers over the last five years, but this gap seems to have exploded over 2017 alone. Yes, foreign investment brings with it many benefits, including a trickle-down effect of funding for other housing initiatives at lower levels and, in fact, the nationality of a buyer is not the issue."
He explains: "The issue is a buyer utilising a property as a second home or a buy-to-let in an already cutthroat rental market, while aspirational buyers remain in the doldrums of said rental market, prohibited from making that first step onto the ladder as a result."
With these findings, it is no surprise that one in four young Londoners plan to move out of the capital to buy their first homes: /young-londoners-plan-move-capital/