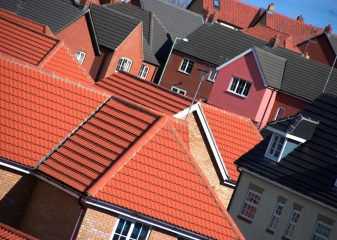 The couple that became Britain's biggest buy-to-let investors have started selling off their 1,000 property empire, hoping to make a £100m profit.
Fergus and Judith Wilson announced last year that they were planning to sell their portfolio, which is based in Ashford, Folkestone and Maidstone.
The former teachers have already made about £25m from selling around 100 properties to Chinese and Indian investors. They hope to have sold all of their rental houses by the end of next year.
Mr. Wilson, 67, says: "We have got another 20% to sell between June and mid-September. We plan to have sold 40% by the end of December. So we will sell nearly half our portfolio this year
and half next."
The couple have two adult daughters and live in a £2m house near Maidstone, which they use as their office.
They initially hoped to earn £250m from the sale of the portfolio, which is predominantly modern two and three-bedroom houses. However, Mr. Wilson lowered his estimations after months of negotiating with potential buyers and to appeal to more agents.
The properties already sold were mortgage free – creating a higher return – and Mr. Wilson says that there is not much left to pay on the other homes.
Previously, Mr. Wilson promised to protect existing tenants, saying that their tenancy agreements will be passed onto the company or landlord that buys their rental property.
"We didn't sell at a discount, all at market price. Basically you're lucky; I'm selling you houses with tenants that have never defaulted and not asking for a premium. The last thing you want to do is to kick a tenant who has done nothing wrong."
Land Registry data revealed that the average price of a detached house in Kent was £364,000 in March 2015, a £17,000 increase on the June 2014 average of £347,000.
The couple bought their first home in Maidstone in 1975 when they were training to be teachers at Goldsmiths College, London. This was a three-bedroom semi-detached property.
They soon realised that buying to let could provide strong returns and went on to quit their jobs in the early 1990s, focusing on their growing empire.
Mr. Wilson previously said that he would be heartbroken to sell the empire that has been thriving since 1992. At one stage, the couple were buying one property per day.
The couple did face difficulties during the financial crisis, but Mr. Wilson claims the decision to sell is based on his desire to retire.
Before announcing the sale, Mr. Wilson was criticised for saying that he prefers renting out to Eastern European migrants, as they are less likely to fall behind on rent payments than Britons on benefits.
He sent eviction notices to about 200 tenants on housing benefit, saying that he was helping them not to get into any more debt.
Last July, Mr. Wilson explained the intention to sell: "We are selling up the whole lot. The market has recovered and passed the 2007 level. An intermediary is handling it. Is it China money, Indian money, Saudi money? We will see. I am sure there will be much interest. I would like it to end up in English hands, but it is a case of who will pay top dollar."1
1 http://www.dailymail.co.uk/news/article-3115091/Ex-maths-teachers-Britain-s-biggest-buy-let-couple-start-selling-1-000-strong-property-empire-bid-make-100m-profit.html