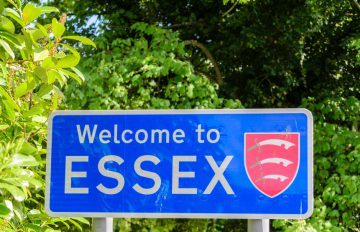 The only way really is Essex when it comes to quick property sales, according to the latest research by Knight Frank.
The Essex postcode of CM18 has been named the top area for the shortest time a property is on the market over the last six years.
Using its myPropertyGenius tool, Knight Frank found that properties in the CM18 area, which includes Harlow and Kingsmoor, are on the market for an average of just 36 days, or five weeks.
Nine of the top ten postcodes for quick property sales are outside of the capital.
The only London postcode to appear in the top ten is SM5 – the Carshalton area – with an average selling time of 42 days, or almost six weeks.
[table id=27 /]
The myPropertyGenius tool uses Knight Frank and Land Registry data. The figures used for this study range from the first quarter of 2010 to the first quarter of 2016.
The property firm found that it's bad news for those thinking of selling a property in the capital, as it takes around 50 days for London homes to be snapped up.
Buyers in the Thamesmead district, in particular, are having a difficult time selling their properties, taking over seven weeks.
However, the issue only looks to be getting worse across the UK as a whole, with recent data from Rightmove showing that the average time a property was on the market in September was a huge 64 days.
The Head of Research at Knight Frank, Liam Bailey, explains why the capital is having such difficulty with quick property sales: "London has seen a shift in fortunes over the past 12 months, power has shifted in the favour of buyers, as their number has fallen while stock volumes have risen. Buyers have the luxury of taking more time over buying decisions – as a result, sales are slower.
"Why? Partially due to the rise in Stamp Duty, which has impacted more heavily on London."
If you're looking for a quick property sale in the capital, it may be best to put in on hold!