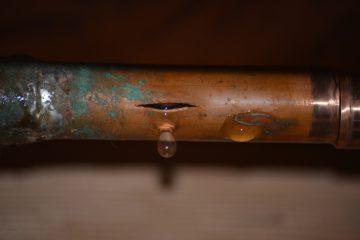 A landlord insurance company is seeking payment from a tenant over damages to a rental property.
The outcome of the case could prove worrisome for generation rent.
Galina Govina, a scientist, rented a £1m cottage in Wiltshire for £2,800 per month. In 2010, she went away over the Christmas period. While she was away from the property, a pipe burst and flooded the cottage.
Govina later received a bill for £128,000 to cover the damage from her landlord's insurance company, NFU Mutual.
The case is resting on whether Govina left the heating on to prevent pipes freezing when she was away, as is required by her tenancy agreement. She claims that she did keep the heating on and blames the damage on a "mechanical failure"1.
However, NFU Mutual says Govina turned the heating off, therefore breaching her tenancy agreement. Although the firm has paid the landlord for the damage, it is still pursuing Govina.
Govina is refusing to pay, insisting that the landlord's insurance policy was in place to protect her from any financial consequences of accidental damage to the property too.
Her barrister, Andrew Butler, warns that victory for NFU Mutual could prove dangerous for many tenants in a similar position in the future.
He says the case is unique, but that it will be "a concern" to anyone living in private rental housing.
He adds: "This was not an uncommon form of tenancy agreement. There hasn't really been a case like this before in a residential context.
"If the judge finds that the insurance policy didn't apply for both the landlord and the tenant, that would certainly be a point of concern for tenants."1
The outcome of the case is yet to be announced. 
1 http://www.telegraph.co.uk/news/uknews/law-and-order/12140902/Physicist-renting-1m-cottage-in-High-Court-test-case-over-128k-bill-for-damage-from-burst-pipes.html