May is blessed with two bank holiday weekends! So why not make the most of the extra days off with some quick and easy tasks that will add value to your property?
If you are thinking of selling either your home or rental property over the summer months, now is the perfect time to improve and maintain the place so that it's ready for a quick sale.
While improving a property can be a daunting task for many, there is a host of small and manageable jobs you can do to increase the value of your home. And don't think you need to replace the whole kitchen or bathroom – simple updates can make a real difference.
Follow these improvement tips to ensure that you get the price you want for your property:
Create space
While not all homes are light and airy, it is possible to create an illusion of space in any property. Spend some time reorganising the furniture in each room to make the best possible use of space. A good idea is to take things off the floor and put them on shelves instead. Also, be ruthless and throw away any clutter.
Get out into the garden
Don't think you need a gardener or landscaper to transform your garden. Simply getting outside and mowing the lawn, tidying up the general area and planting some bright flowers will spruce up your outdoor space. A good garden is important to most buyers, so follow these helpful tips: https://www.justlandlords.co.uk/news/top-tips-stunning-springtime-garden/
Remember energy efficiency 
All buyers will hope to keep their bills down, so it can be worthwhile fitting your property with energy efficient appliances. With new products on the market all the time, buyers will be looking out for ways to knock the costs off their bills. Moving forward, energy efficiency is only going to become more prominent when purchasing a home, so don't forget it.
Add some life to fixtures and fittings
It is inevitable that all properties will suffer wear and tear, so take a look around and pinpoint anything that may put buyers off. Many prospective buyers will hope to be able to move in without much work needing to be done, so addressing small issues can leave them feeling confident about the condition of the property.
Let in the light
If you have a particularly dark and dreary room that no amount of white paint will brighten, it could be wise to install a new window. This is usually quite reasonably priced and will benefit you in the long-term.
Make small replacements 
If you really must replace some fixtures and fittings, don't think this means you need to splash out on a completely new kitchen or bathroom. Small replacements can make a huge difference – whether it's a new floor or cupboard doors.
Take on some DIY jobs
With the internet at our fingertips, finding DIY advice has never been easier. Don't be afraid of picking up the tools yourself and fixing small damages or making minor improvements to the property. But always remember to watch out for yourself – a professional should tackle anything too heavy or difficult.
Add a lick of paint 
One of the easiest and cheapest ways to freshen up a property is by giving it a lick of paint. Remember the importance of neutral colours when decorating a home, as some buyers could be put off by garish tones. We have the top interior colour schemes for the spring season: https://www.justlandlords.co.uk/news/interior-colour-schemes-new-season/
Transforming your property and adding value doesn't need to be difficult – just give your home some TLC this bank holiday!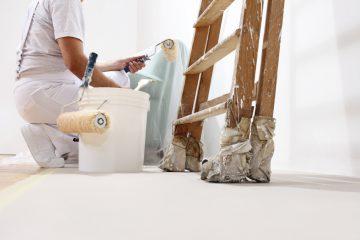 Decorating Advice for Landlords this Bank Holiday
The bank holiday is a perfect opportunity to spend some time decorating your rental property so that it is ready …