Plummeting homeownership levels across the north of England show that the housing crisis is not confined to London, warns a new report from the Resolution Foundation.
The study found that homeownership in England has dropped to levels last seen in 1986, with Greater Manchester, South and West Yorkshire and the West Midlands metropolitan area all experiencing double-digit falls since the early 2000s peak.
The analysis shows that after reaching a high of 71% in 2003, the proportion of people owning their own home in England has declined steadily over the past decade, by eight percentage points. The Resolution Foundation believes that the increase in homeownership recorded in 2014 was likely a blip to correct the sharp fall seen the year before, rather than a welcome reversal of a long-standing trend.
The new report also warns that while many reports on the housing crisis focus on London, Greater Manchester has actually recorded the greatest decrease in homeownership of any major city in the past decade.
In 2003, 72% of households in Greater Manchester owned their own home – slightly higher than the average in England as a whole. However, homeownership in the area has since plummeted by 14 percentage points – almost twice as fast as England as a whole – meaning that last year, just 58% of those living in Manchester were homeowners.
The Resolution Foundation notes that people living in Greater Manchester are no more likely to own a home than those living in outer London, and that homeownership levels have dropped below all other large northern city areas, except Tyne & Wear.
However, the report also warns that plunging homeownership is not confined to Greater Manchester either. It reports that outer London, South and West Yorkshire and the West Midlands have also seen double-digit declines in homeownership since the early 2000s.
This drop in homeownership has corresponded with a near doubling in the number of private tenants in England, which has risen from 11% of all households in 2003 to 19% in 2015.
The proportion of households renting privately in Greater Manchester has more than trebled over the same period – from 6% to 20% – while outer London and West Yorkshire have also reported double-digit growth.
The report insists that the shift from homeownership to private renting, which is occurring throughout England, particularly among young people, is concerning for many reasons.
It highlights that private tenants spend a far higher proportion of their income on housing than those who own a home with a mortgage – 30% compared to 23% – which explains why the share of income that households spend on housing in the UK has risen by around a quarter since 2003, and by around a third in the North West.
Private tenants are also more likely to face the greater insecurity associated with short-term contracts, while the struggle to purchase a home makes it harder for people to accumulate the wealth that they may rely on in later life.
In fact, almost half of over-45s consider their property wealth as key to their retirement income plans.
The Resolution Foundation analysis follows the English Housing Survey, released last week, which found that two-thirds of private and social tenants named affordability as a barrier to homeownership. It found that less than one in ten private renters did not expect to buy a home because they liked it where they were, while just 1% preferred the flexibility of renting.
The Policy Analyst at the Resolution Foundation, Stephen Clarke, comments on the report: "London has a well-known and fully blown housing crisis, but the struggle to buy a home is just as big a problem in cities across the north of England.
"The chances of owning a home have fallen fastest in Greater Manchester over the last decade, though the Leeds and Sheffield city areas have also experienced sharp drops.
"These drops are more than a simple source of frustration for the millions of people who aspire to own their home. The shift to renting privately can reduce current living standards and future wealth, with implications for individuals and the state."
He insists: "We cannot allow other cities to edge towards the kind of housing crisis that London has been saddled with. It's encouraging that the new Prime Minister has talked about tackling the housing deficit. She may find that making good on this promise could secure as important a legacy as negotiating a successful exit from the European Union."
Landlords, remember that many households across the country are forced to live in the private rental sector. Wherever you own rental properties, remember to stick to the law and ensure that they are safe, suitable and secure for your tenants.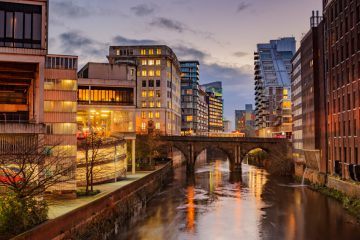 Manchester Plans to Reintroduce Landlord Licensing Schemes
Manchester City Council is currently conducting a consultation into its plans to reintroduce landlord licensing schemes across the city, after …