Property News
Survey Reveals the Homes of the Future that Owners and Tenants Want
Em Morley - January 2, 2019
Almost a third of homeowners and tenants want homes of the future to be more eco-friendly, according to a survey conducted by Eurocell, a manufacturer, distributor and recycler of PVCu windows, doors, conservatories and roofline systems.
Eurocell's The Future Home Report draws on the findings of a survey of 1,000 25-40-year-olds that either own or rent their homes, regarding design and build considerations for homes of the future.
When asked about the most appealing design trends that they'd want in their homes, 29% of respondents identified an eco-friendly property, while 24% looked for open-plan living. Floor-to-ceiling windows and a minimalist look came in joint third, at 23%.
When asked further about their attitudes towards eco-friendly building and design, 49% of respondents said that they would be more likely to buy or rent an eco-conscious home. However, despite this interest, only 24% said that they would be willing to pay more money when buying or renting a property with eco features.
Overall, 46% of respondents said that they would be willing to pay a little bit more in rent or price if a property incorporated their favoured design trends. Additionally, 10% said that they would be prepared to pay significantly more.
When asked which top three factors contribute to them feeling good in their own homes, respondents identified the amount of natural light (48%), low noise levels (39%), and feeling safe and secure (37%) as the most important. These were closely followed by access to outdoor space (36%), and the design and layout of the home (35%).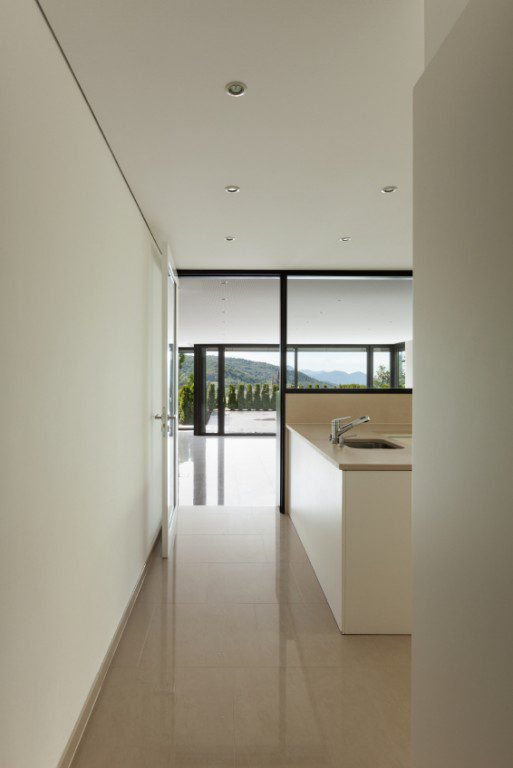 The report also includes expert input from architects and property developers. It reveals insight into the homes of the future that people hope to live in and current trends in the residential market, as well as identifying five trends that are currently defining the future design of homes:
A more advanced private rental sector model
Private rental sector buildings are likely to develop over time to be operated more like clubs, where tenants will have access to facilities across developers' estates.
This model is certainly interesting in the higher-value private rental sector, with developers in bigger cities starting to make initial inroads into this market.
2. Regeneration
Regeneration of places is playing a huge role in housebuilding at present. Public and private sector collaboration is seen to be driving this trend. For example, homes being built near new schools to meet an increase in demand for housing around these areas, or homes being built above public hospitals and gyms to utilise the space.
3. Creating adaptable living spaces
There is increasing interest and demand for adaptable living spaces that cater for the short-term flexibility that people need. For instance, turning storage space into a bedroom for a weekend, or using partitions to split rooms.
4. Inner versus outer city living
An emerging trend is the difference between rural design, which tends to be more restricted, and city centre living, which is usually more innovative.
As more and more people start their lives in the city and then move out of the city (taking their preferred design trends with them), it is anticipated that this will eventually evolve what developments in more rural locations look like.
5. An increase in modular building
The reputational facelift that modular building has undergone in the past is leading to growth in the sector, with the technique often being cited as a more sustainable way of building, due to the use of a controlled environment and waste reduction.
Chris Coxon, the Head of Marketing at Eurocell, comments on the report: "As the UK is currently in the middle of a housing crisis and is seeking to build 300,000 homes a year for the next decade, we wanted to gain insight into the homes that owners and renters want to live in, to provide the construction sector with a resource that will help them shape homes that people desire.
"The Future Home Report incorporates what homeowners hope to see, with the insight of a team of experts, to provide a balanced whitepaper that can help influence how future homes are designed and built."
What are you hoping for from the homes of the future?