There has been more bad news for would-be homeowners seeking a mortgage with the news that average salaries of people in this position have dipped to a near four-year low.
Latest data from the Mortgage Advice Bureau has suggested that low mortgage rates have improved accessibility into the market for lesser earners. As a result, lenders now feel more at ease working within their new affordability criteria.
Falls
A year ago, the average salary of people looking for their first mortgage reached a high of £41,106, after the introduction of MMR in April. Fast-forwards twelve months and the typical income for a borrower is £34,584. This is an annual drop of 16% and represents the lowest figure since August 2011.[1]
The dip in average annual salaries comes despite a 6% rise in the size of average purchasing deposits over the year, rising to £75,625 from £71,474 twelve months ago.[1]
Loan-to-values have fallen as a result, from 69.8% in June 2014 to 69.2% last month, with homebuyers borrowing less and taking more responsibility with their own cash. Additional data shows that the typical purchase deposit represented 1.74 times the buyer's salary last year, but has risen to 2.19 times salary in 2015.[1]
Mortgage tumbles
Average mortgage rates have also fallen substantially during the past year. Consequently, mortgage bills have tumbled, which has greatly assisted those who have previously been unable to buy. Average rates for a two year fixed mortgage in June were 2.87%, down from the 3.61% in June 2014. Three-year rates have slipped from 3.75% to 3.13% during the same period. Five-year fixed rate deals have also gone down from 4.14% to 3.38%.[1]
More competitive pricing has seen homebuyers with a mortgage potentially saving an average of £65 on their monthly bill in comparison to last year, amounting to annual savings of £780. What's more, following a recommendation from the Financial Policy Committee, finances are being tested against a 3% base rate increase when applying for a mortgage. This allows homeowners to be confident that they could potentially cope with increased monthly repayments.[1]
With this said, a rise in interest rates would have a significant impact on savings. Even a low base rate rise of 0.5% would see the monthly mortgage bill on a two-year rate increase to £839. If the rate was to rise to 2%, which has been mooted to happen by 2018, and if mortgage rates follow suit, two year fixed rate borrowers would pay £933 per month. For five-year rates, this would amount of an extra £982.[1]
Adapted
Brian Murphy, head of lending at Mortgage Advice Bureau, said, 'borrowers have been the winners in the mortgage market over the past twelve months.' He said, 'although some lenders may initially have been over-cautious following the introduction of the Mortgage Market Review a number have since adapted to the rules and become more flexible in terms of affordability.'[1]
'At the same time, mortgage rates have plummeted, leaving borrowers with cheaper monthly bills and making homeownership a more affordable prospect. There are many factors beyond the headline rate that determine whether a loan is suitable, but there is no denying that rate cuts have made a significant difference for many new borrowers,' Murphy continued.[1]
Mr Murphy went on to acknowledge that, 'the Bank of England has indicated that an interest rate rise could be sooner than we first thought. Although lenders thoroughly stress test household finances to ensure borrowers can cope with higher interest rates, a rise of just 0.5% could still bring mortgage bills back up to where they were a year ago. For those who are concerned about the future trajectory of mortgage rates, locking in to a long-term fix is a good way of ensuring stability of repayments.'[1]
Increased choice
Alongside from benefiting for record low mortgage prices, people looking for a mortgage are now able to select from a record number of mortgage products. The total number of mortgage products borrowers are able to choose from have risen by 28% over the year, standing at 14,233 in June. Mortgage products through intermediaries have grown the most. Just last month, the total number of intermediary products rose by 2.3% to total 9,602.[1]
Murphy observes, 'competition among lenders-as well as a number of new entrants to the market-means that mortgage product choice is now at a post-recession high. This leaves borrowers with a wider range of options to choose from and also encourages more competitive pricing.'[1]
'As the cost of direct lending has risen post-MMR, banks and building societies are increasingly leaning on intermediaries as a way to reach out to customers. This means a mortgage broker can offer consumers a far broader range of products, and have a better chance of finding one to meet their needs. Using a broker also takes the guess-work out of knowing which products a borrower will be approved for,' Murphy concluded.[1]
[1] http://www.propertyreporter.co.uk/finance/homebuyer-salaries-fall-16.html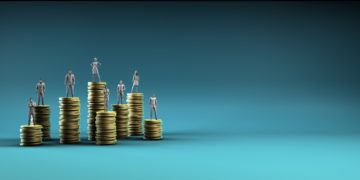 Estate agent salaries amongst the lowest in the sales profession
Estate agents earn one of the lowest basic salaries of all sales professions, research from estate agent Nested finds. Nested …