Finance News
Competitive Market Causes Highest Rate of Remortgaging in a Decade
Rose Jinks - December 13, 2018
A competitive market has caused the highest rate of remortgaging for a decade, according to UK Finance's Mortgage Trends Update for October 2018.
Some 50,500 new homeowner remortgages were completed in the month of October, which is up by 23.2% on the same month last year. The £9.2 billion of remortgaging was 22.7% higher year-on-year.
32,900 new first time buyer mortgages completed in October, some 8.2% more than in the same period of 2017. This £5.5 billion of new lending was 12.2% higher on an annual basis.
UK Finance found that the average first time buyer was 30-years-old and had a gross household income of £42,000.
There were 33,400 new home mover mortgages that completed in October, which is 4.0% more than in October last year. The £7.4 billion of new lending in the month was up by 8.8% year-on-year.
The average home mover was 39-years-old and had a gross household income of £56,000.
6,100 new buy-to-let property purchase mortgages were completed in the month of October, which is down by 9.0% on the same month of 2017. By value, this £0.8 billion of lending was down by 20.0% annually.
There were 15,700 new buy-to-let remortgages in October, some 5.4% more year-on-year. This £2.5 billion of lending was up by 4.2% on October last year.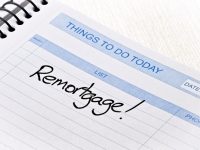 Comments
Jackie Bennett, the Director of Mortgages at UK Finance, says: "Remortgaging has reached its highest level in almost a decade, as homeowners take advantage of a competitive market and lock into attractive deals. This also reflects the large number of fixed rate mortgages coming to an end, which is expected to continue into 2019.
"There has been relatively strong growth in the number of first time buyers, with schemes such as Help to Buy providing vital support to those getting a foot on the housing ladder.
"Meanwhile, the buy-to-let market has seen a continued increase in remortgaging and a softening in home purchase activity, in line with ongoing trends in recent months."
The Founder of CashbackRemortgages.co.uk, Suchit Sethi, also comments: "This explosion in remortgaging activity is yet more proof that homeowners are taking concerted action in the face of Brexit-related uncertainty.
"These are the strongest remortgaging figures in a decade, which is understandable, given that we are on the cusp of one of the biggest politico-economic events for a decade in Brexit.
"Fortunately, the mortgage market is still flush with attractive deals for discerning borrowers. Rates may no longer be as low as they were, but they are still extremely competitive.   
"The threat of a rate rise as soon as May is likely to have lit a fire under the sector, too, with homeowners scrabbling to lock into competitive deals while they still can.
"The resilience of the first time buyer is also very encouraging. Help to Buy has had a huge impact on younger people struggling to get onto the ladder, while the retreat of landlords has been the icing on the cake.
"These figures offer some reassurance that homeowners are taking the appropriate steps to protect themselves, even while the political establishment looks set to tear itself apart."
John Phillips, the Group Operations Director at Just Mortgages and Spicerhaart, gives his thoughts on the figures: "Today's UK Finance Mortgage Trends report reveals the highest rate of remortgaging in a decade, with a rise of 23.2% on last year, confirming that remortgaging is the clear driving force in the mortgage market at the moment. Last month's estimate showed a downturn in remortgaging, and I was quite surprised, as it was not what we have been seeing at Just Mortgages. These figures are much more of a reflection of what we are seeing in the market.
"We can also see that home mover mortgages are up, too, perhaps signalling that now the initial reluctance to move amidst Brexit uncertainty is straight to waive slightly. There will probably be another dip in home mover activity as we go into 2019, but I think remortgaging will remain strong. There are lots of fixed rate deals coming to an end, and people are keen to lock in good fixed rate deals now, before potential rate rises.
"Also in tougher times, when purchasing is down, lots of brokers start to focus more on their remortgaging business, which they should be doing anyway, and that has almost certainly impacted on the rise."