As a landlord, keeping your property in good condition is one of your top priorities. You want to ensure that the walls are damp free, drainage and guttering is clear, and that any appliances are correctly installed and meet the required safety standards. But what of the floors in your property?
Often overlooked by landlords and their tenants alike, taking care of the flooring in your property should be towards the top of your list when it comes to maintenance.
Many landlords make the mistake of installing cheap carpet, particularly in student lets, but this can soon prove costly, with carpet having to be regularly replaced due to spillages and stains, keeping in odour and bacteria, and in some extreme cases, problems with mildew. Investing in a more durable, long-term solution such as engineered wood flooring or laminate could end up saving you money in the long run.
There are many advantages to installing an engineered wood floor or laminate in your property, with one of the main plus points being how easy they are to take care of. Cleaning these types of floors is a simple task, particularly with the latter, with a well wrung out mop and cleaning solution the ideal method. Ensuring you use the right cleaning solution, it will help bring the shine back to the floor and remove any soft stains.
If you're going to install a wood floor in your property, then you will also have to consider which finish to apply to the wood. A lacquered or oiled finish will give an additional protective layer to the wood flooring, making it easier to care for, and more resistant to knocks and scratches. With an average lifespan of more than 50 years, wooden flooring is a great solution for many rooms.
Having said that, laminate flooring is another option which you may wish to consider, particularly for areas such as kitchens, bathrooms or utility rooms. Depending on your choice of style, laminate can look very similar to a real wood floor, but it typically comes cheaper than the real thing. Not only this, but laminate is incredibly easy to replace should any of it get damaged, and so it has a massive appeal to landlords who want to renovate on a budget.
Of course, there are many different flooring options to choose from, but we would recommend both engineered and laminate for rental properties due to their durability, and their ease of installation and upkeep.
A guest post from Luxury Flooring & Furnishings.
W: luxuryflooringandfurnishings.co.uk                T: 0333 577 0025
E: info@luxuryflooring.co.uk
Twitter: @LuxuryFlooring1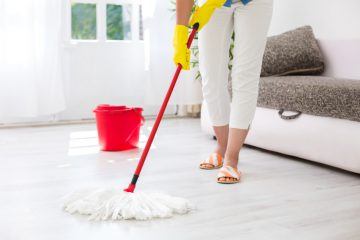 Video Launched to Help Tenants Avoid Deposit Disputes
A video has been launched to help tenants avoid tenancy deposit disputes over cleaning when they leave their rental property. …