A new investigation from the Intermediary Mortgage Lenders Association (IMLA) has shown that intermediaries arranged a record-high level of new mortgages in 2015.
The intermediary section saw its share of new mortgages by value move past 70% in the second quarter of the year, reaching 71%. In quarter three, brokers arranged loans totalling £33.3bn:the greatest quarterly total since the second period of 2008.
New Lending Rise
Analysis from the IMLA report indicates that brokers were responsible for 69% of new lending by value, in this first nine months of 2015. This was a rise of 8% from the same period in 2014, putting them well on the way to beating the record 66% annual share recorded in 2007.
Already, the £85.9bn in lending that intermediaries have arranged in the three quarters of 2015 to date is greater than the annual totals achieved in 2009-2013. In addition, this is just 12% less than the 2014 total of £98bn.
However, the report indicates that brokers' increased percentage of activity has not been as set across the whole market. Proportionately, remortgages and homemovers are using the intermediary channel more than ever before, but the proportion of first-time buyers sorting out a mortgage directly with their lender has risen from 32% to 37% between 2006 and 2014.
Despite brokers reclaiming their market share over the course of the year, the number of first-time buyers going direct to lenders remains higher than in 2007. This could be down to lenders' marketing tactics to lure first-time buyers.
The percentage of mortgage lenders going direct, as opposed to using intermediaries, is highlighted by the table below: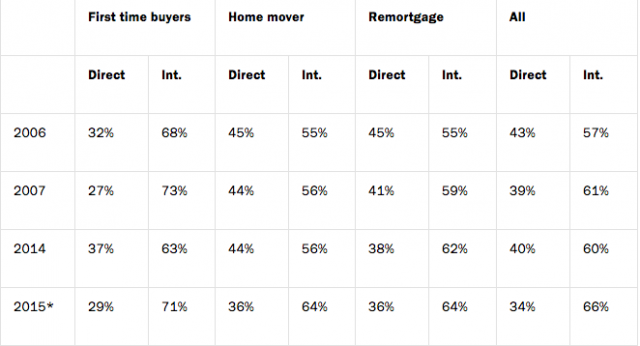 Technology
Technological advances have traditionally made direct channels with financial services stronger. This said, the IMLA observes that this isn't the case in mortgage lending, where the majority of consumers still feel that they need to liase with a professional.
This, according to the IMLA, is due to the complexity of mortgages as a product, in addition to the vast number of products available on the market.
'The intermediary channel has been revitalised and looks like ending 2015 having arranged an unprecedented share of mortgages, as the emphasis on advised sales changes the landscape,' noted Peter Williams, Executive Director for IMLA. 'Today's market is more regulated and more competitive than at any point since the recession and brokers' expertise and impartiality means that they are well-suited to navigating the mortgage maze on behalf of borrowers.'[1]
Williams went on to say, 'distribution of some financial products has been revolutionised by changing technology, yet as things stand and despite execution-only options being available, the overwhelming majority of consumers still prefer to speak to a professional either in person or over the phone about getting a mortgage. Changes undoubtedly lies ahead, but whatever the advice process of the future looks like, consumer interests must remain at its core.'[1]
[1] http://www.propertyreporter.co.uk/finance/record-breaking-end-to-2015-for-intermediaries.html